The Expertibus and its auctioneers meet regularly in twenty-six selected towns and villages to appraise and sell your works of art, whatever their type:
Chinese art, Vietnamese art, Japanese art, old and modern paintings, sculptures, books, design, glassware, ceramics, wines and champagnes, designer clothes and leather goods…
Bring your objects to the Expertibus and leave with a free estimate and expertise or choose to entrust them to us for sale.
We will then sell your objects at auction in Toulouse or Paris, which is always the assurance of obtaining the best price.
We will regularly visit 26 selected towns and villages, namely:
ASPET
AUTHORIZED
BAGNERES OF LUCHON
BESSIERES
Boulogne-sur-Gesse
PEDIMENT
GRENADA SUR GARONNE
LANTA

LEZAT SUR LEZE
ISLE IN DODON 
MARTRES-TOLOSANE
MAUZAC
MONTESQUIEU-VOLVESTRE
MONTREJEAU
NAILLOUX
PUJAUDRAN
REVEL
RIEUMES
SAINT FELIX OF LAURAGAIS
SAINT GAUDENS
SAINT-LYS
SALIES DU SALAT
VERFEIL
VILLEFRANCHE OF LAURAGAIS
VILLEMUR-SUR-TARN
IMPORTANT. To preserve your safety, DO NOT TAKE GOLD OR JEWELRY TO THE EXPERTIBUS.
Prior expertise only on photographs or lists.
If you decide to auction off your gold or jewelry through our auction house, we will come and collect them by appointment and in complete confidentiality, at your home or an appointment will be made at the Saint-Aubin auction house for their deposit.
The Expertibus does not transport gold or jewellery.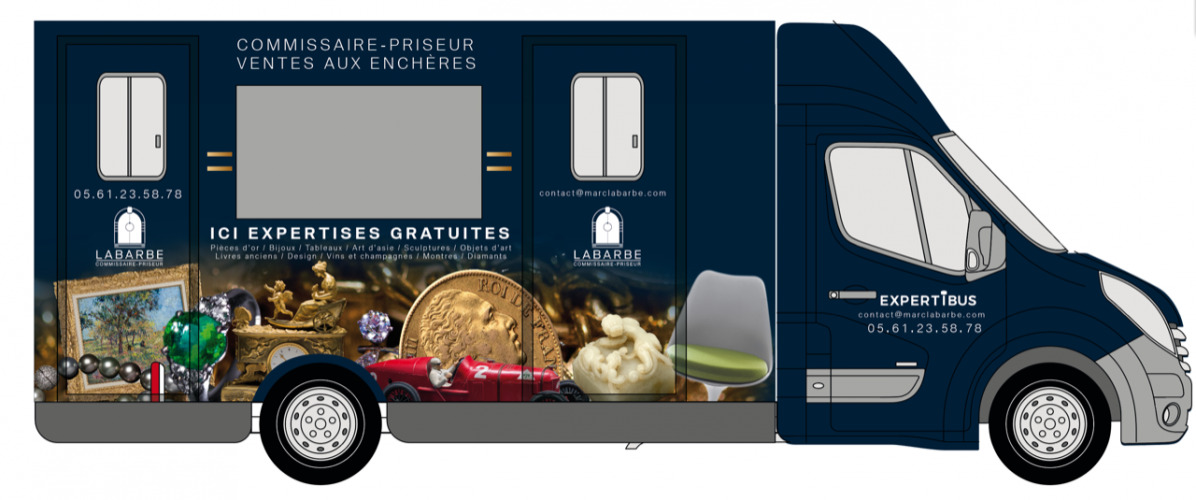 Upcoming dates and venues
MAUZAC (JC)
AUTERIVE (M)
NAILLOUX (AM)
CARAMAN (M)
VILLEFRANCHE DE LAURAGAIS (AM)
SAINT FELIX OF LAURAGAIS (M)
REVEL (AM)
VERFEIL (M)
BESSIERES (AM)
VILLEMUR SUR TARN (JC)
FRONTON (JC)
GRENADA SUR GARONNE (JC)
PUJAUDRAN (M)
SAINT-LYS (AM)
LE FOUSSERET (M)
RIEUMES (AM)
BOULOGNE SUR GESSE (M)
L'ISLE EN DODON (AM)
SAINT GAUDENS (JC)
MONTREJEAU (JC)
BAGNERES OF LUCHON (JC)
ASPET (JC)
SALIES DE SALAT (JC)
MARTES TOLOSANE (JC)
MONTESQUIEU-VOLVESTRE (M)
LEZAT SUR LEZE (AM)
JC : Full day M : Morning (10 a.m. to 1 p.m.) AM : Afternoon (1 p.m. to 5 p.m.)
You can also request an expertise online